Bloonerton Market Is Here


Weeks of frenetic activity have finally borne fruit. The Whacker brings you the latest happenings at the launch of Bloonerton Market, and the grand opening of the first three stalls - Pagan's Pleasures (Let us keep your buns warm); Febs Emporium (Purveyors of quality bollox); and Scoffers (Scoff till you drop).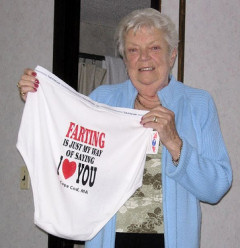 "Hello Blooners. My name is Pagan and I am selling some smashing pants. My pants are the best there is. So there."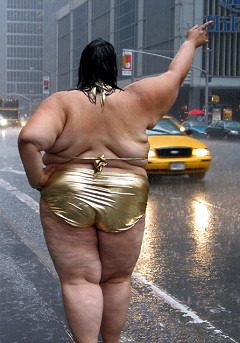 On one of her semi-nekkid shopping sprees, malaika gets caught out in the rain and hails a cab to take her to Febs Emporium for a nice new t-shirt. "I didn't like the t-shirts but I came away with a super naked fat man apron and a delux space hopper. Now I don't need a taxi home."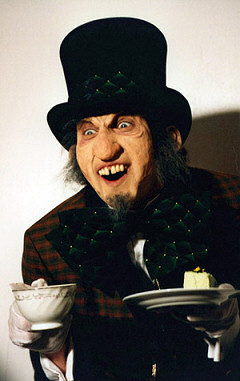 Tomme got dressed up in top hat and tails for his trip out to Scoffers. "By gum, the foods fantastic. I almost went for the percy porkface sandwich stacker, but was tempted by the bogey sandwich with shredded coconut. Then I had the donkey dinner, followed by a superb boob cake. I am well stuffed. Buuuuuuurp - pardon me! I'll be taking a penis cake home for the wife to have a go with, nudge nudge, wink wink."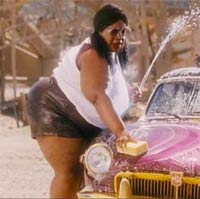 Waiting patiently in the wings for the next batch of cars to be [s]stolen [/s]manufactured, colonel_mustard makes sure his existing fleet is well maintained by blackmailing poor annieadenoid to wash and polish his motors. But what else of colonel mustard's might she be buffing up, eh?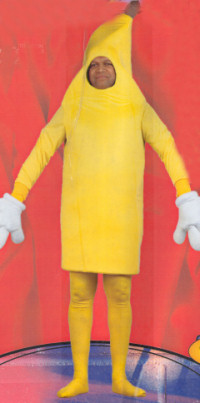 Honestly, the lengths to which some people will go to promote their new store. The crafty KJM can be seen strutting up and down Bloonerton Market dressed in a novelty banana costume. Why are you disguised as a banana we asked. "Well, you see, it grabs people's attention, and then I can tell them all about my new shop which sells vintage spanking art and prose. What's more, each customer gets a free banana on the way out!"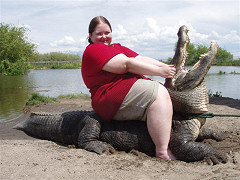 Double_Trouble is wildly excited now she has opened a furniture shop in Bloonerton Market. Determined to maintain a highly unique selection, here she is, trialling out the new 'crocodile recliner.' "Its fabulous - and the open jaws can be used as a handy waste paper bin."
Newsflash - Sadly, Double_Trouble won't be stocking this item. Apparently her cleaning lady tried to 'empty' the waste paper bin and got eaten.
---
Kilahara Cone Head


Here is Kilahara in yet another one of his famous disguises, as he travels the world looking for spankering stories for the BL library. The old chap was not in the best of moods. "This is outrageous. Ive spent $200 having my hair done, and it looks like an ice cream cornet. Hurrrrumppf."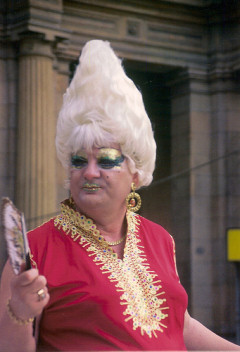 ---
Redtail the Pinktail


After dying her hair bright pink, Redtail is now trying to persuade iggy to have hers dyed electric blue. Iggy is shown here having a beer to help her think clearly and make this important decision.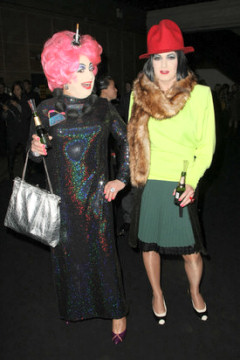 ---
Lizzy Grows Garlic Boobies


Lizzy23 is doing the happy dance. "I have been eating garlic flavoured ice cream for six weeks now, and its made my boobs grow to a stupendously amazing size. They are nice and firm, with just the right amount of wobble. I am delighted, even though they pong a bit. Next week I'm going to switch to pilchard and bannana flavoured ice cream. I can't wait to see what happens then!"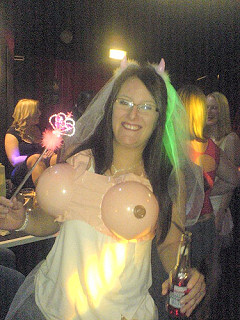 ---
Masdaz the HotDog Guzzler


Congratulations to 1st prize winner Maszaz, who ate 53 hotdogs in 5 minutes. He then spent 45 minutes in the lavatory. His prize is very exciting - a voucher for a free weekend at a health spa, where he will be pummelled and pampered until he begs for more.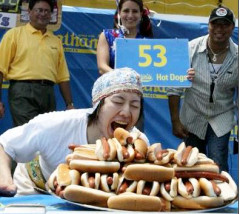 ---
Yerafdog Struts His Stuff


Yerafdog is rolling in dosh. The enterprising man has found that by wearing his wifeys best frocks and makeup, he can make $500 an hour, singing and dancing in a public bar. The Tawse and Slipper have booked him to do his act every Saturday night, and he's proving a bit hit!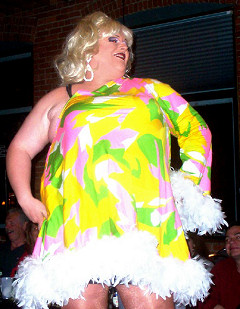 ---
Jacktar Crowned Champion Pig Wrestler


Pig wrestling is the latest craze to descend upon the whacky denizens of BL-Ville. Here is Jacktar putting his piggy through her paces and giving her a tough time. "She's a fat hairy porker, this one, but she'll not get the better of me!"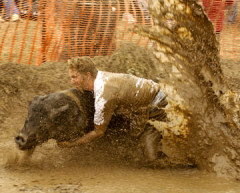 ---
Agony Bunny's Advice Column


Dear Agony Bunny, My chums and I (MissSpankee and Adelina) would like to confess something to you, to get those feelings of guilt off our chests. We like to sniff rubber. There - Ive said it. Is it so terrible? We would really like to be able to sniff in public, without drawing undue attention to ourselves. Have you any ideas how we can do this? Please help us, dear wise and all-knowing bunny. stripes

Dear stripes I have the perfect solution, my dear. You shall all wear rubber knickers and rubber bathing helmets, and then you shall cavort in the swimming pool, perfectly at ease in a public place, and able to sniff each others helmets to your hearts content.

Yours truthfully, Agony Bunny.

And here are the satisfied customers, enjoying themselves as they sniff all that lovely rubber.
Competition! Guess the Caption


Whoever can come up with the best caption for this picture will get $100 BL dollars! Post your answers on the thread, dear Blooners. The lucky winner will be announced in the next issue. This Week's caption pic: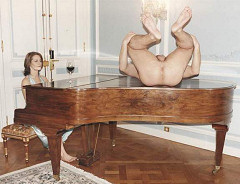 Many thanks to Kilahara for judging the last Weekly Whacker caption contest. And the winners are:
1st: : lizzy23 - "Making their American debut, We proudly present...The Three Tremors!"
2nd : tamiko: - "Those three sisters do CRACK me up!"
3rd : Wishy - "I thought inhaling helium was only supposed to make our voices sound funny"
Congratulations all!

---
Handy and debs Commune With Nature


"We do like a spot of sunbathing in the great outdoors," opined Handy, posing outside his beach hut with debs, whom he later walloped for ruining the photograph because she still had her shoes on. Tsk tsk.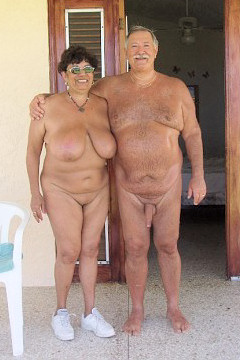 ---
Hammy the Hamster Eaten Alive by Drunken Blooner


Here she is, with a petulant frown. What's up, kimbers? "I'm fed up, I am. I've just had a visit from mia and not only has she eaten all my best biscuits, she's gone and eaten my poor Hammy the hamster by mistake." When questioned, mia confessed to the heinous crime, stating that she thought Hammy was a sausage roll. Mia has now got a bad tummy ache.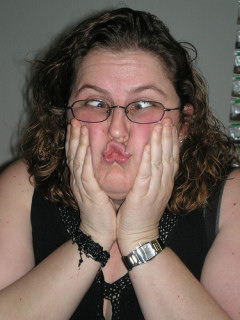 ---
Sexy New Boots for Short4ever
My name is short4ever and these nice blue boots are mine
So taken with my boots am I, I wear them all the time
They really keep my toes warm and look fetching on my feet
I clean my kitchen floors with them and when I want a treat
I bend right over on the floor, my bottom big and svelt
So hubby can then stop and stare and whack me with his belt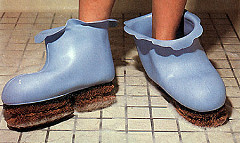 ---
Otkmicky Gets Top Job


Alas, Doncarl got the sack as BL's weather forecaster, as he poked his nose whilst on television. The job has now been given to otkmicky, a mighty handsome new Blooner. Here he is, flushed with success after reading out his first forecast on Blooner television. "This weeks weather will bring a formidable trump of wind from the north, and an even bigger trump of wind from the south. This means Blooners should take cover or they will get trumped on." Righto. Thanks for that, otkmicky.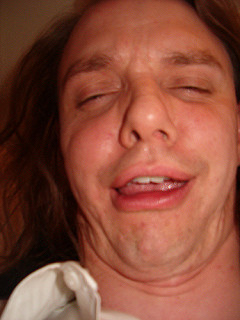 ---
New Blooners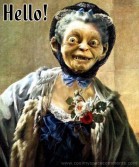 They continue to pile in from the outside world. A warm Blooney welcome goes to: jean, Johnnyschutt, michebe, otkmicky, Sixup, ChilternPete, Bob-BC, Michael, LJMONO, luhalauren, cheekyminx, foreverbrat and RicksAngelicBrat. Welcome to the mad house, folks. You are now officially anointed as BLOONERS :D

---
Drunken Louts Bare Almost All


Blackvelvet007, Tenn, Bluestar and SPANKOH had a nice day out at Bloonerton-On-Sea. They ate fish and chips and candyfloss and drank several pints of beer. Blackvelvet was sick. Then the boys stripped down to their undies and wiggled their knees in a vain bid to impress the girlies. They spent the night in the BL jail with their tails firmly between their legs!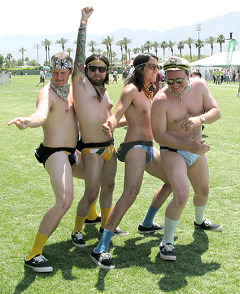 ---
Sir Woody and Hardwood in Award Winning Double Act


All hail Sir_Woody and Hardwood who are basking in critical acclaim since their performance at the recent 2008 Yodelling Championships. Out of 250,000 would-be hopefuls, Sir Woody won, with Hardwood a close second.
---
Readers' Top Tips


This weeks tip comes from josmot who says: "Instead of discarding your ear wax, save it. When you have enough, you can use it to make novelty willy candles. And just think of all the money you'll save !"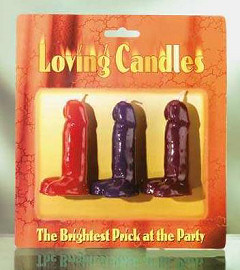 ---
Aska For a Pickled Onion


"Nice fresh onions. Luverly pickled onions. I've got a thing about pickled onions you know," confided aska in the strictest confidence. "Don't tell anyone, but I like to be spanked by a pickled onion chomping spanker. The delicious crispy onion chomping noises he makes while tanning my rump really turns me on." Ooooooh - really? Ta for the tip aska, we'll be trying it out shortly. Let's hope there are enough pickled onions in the shops to cope with demand.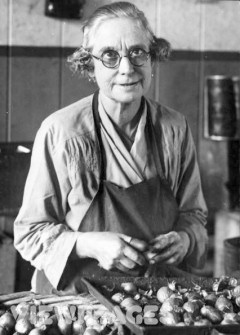 ---
Cheese Rolling Next Saturday - Massive Turnout Predicted


If you want to see Blooners risking life and limb chasing cheese, head for the high ground between Tanner's Terrace and Bloonerton-On-Sea in BL-Ville next Saturday, where competitors will battle it out in pursuit of an sixteen-pound Double Gloucester.

It's not easy to convince someone how dangerous cheese rolling can be, but this event has proved so hazardous in recent years that the Blooner police have occasionally resorted to banning it. Here is a snap from last years Cheese Rolling Competition, which shows Mads in the lead. He later fell as he was knocked on the head by a flying cheese. Excitement builds for this Saturdays annual cheese rolling. Who will be the lucky winner? Hospitals are busy stocking up on bandages and splints and are ready to implement their emergency plan to cope with all the inevitable Blooner injuries as they fail to dodge the cheese.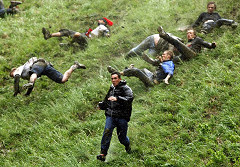 ---
Living it up in Israel


Michelle is having a smashing time out in sunny Israel. "Oh yes - Ive just had my hair done - isn't it terrific? I shall be going to a party by the pool later. But first I'm going to glug down this tequila sunrise, and then have a relaxing leg wax. See you all when I get back. Byeeeeeeee!"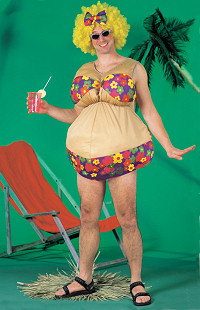 ---
Corner Time For The_Stu


He's been norty again, so as punishment, The_Stu has been whacked 50 times with a fish slice. He made so much fuss that he was then made to dress in his cry baby outfit and stand in the norty corner for 2 hours, reflecting on the error of his ways.